Publication Opportunities
We are very pleased to announce that the following journals will publish a selection of papers from the ISAHP 2018 conference. If you would like your paper considered for publication in one of the following journals, please note that papers submitted for publication will follow an additional review process. Selected authors will be invited to submit extended versions of their paper by the responsible of each special issue and their papers will be fast-tracked for review.
---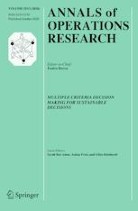 Annals of Operations Research
The Annals of Operations Research publishes peer-reviewed original articles dealing with key aspects of operations research, including theory, practice, and computation. The journal publishes full-length research articles, short notes, expositions and surveys, reports on computational studies, and case studies that present new and innovative practical applications.
In addition to regular issues, the journal publishes periodic special volumes that focus on defined fields of operations research, ranging from the highly theoretical to the algorithmic and the applied. These volumes have one or more Guest Editors who are responsible for collecting the papers and overseeing the refereeing process.
Focuses on the theoretical, practical, and computational aspects of operations research
Publishes full-length research articles, short notes, expositions and surveys, reports on computational studies, and case studies
Features periodic special volumes focusing on defined fields of operations research
https://www.springer.com/journal/10479
Call for papers: File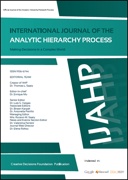 International Journal of the Analytic Hierarchy Process (IJAHP)
IJAHP is a scholarly journal that publishes papers about research and applications of the Analytic Hierarchy Process(AHP) and Analytic Network Process(ANP), theories of measurement that can handle tangibles and intangibles; these methods are often applied in multicriteria decision making, prioritization, ranking and resource allocation, especially when groups of people are involved. The journal encourages research papers in both theory and applications. Empirical investigations, comparisons and exemplary real-world applications in diverse areas are particularly welcome.
The objective of IJAHP is to offer authors on AHP and ANP a special outlet with readers and reviewers knowledgeable about the basics of these theories who are capable of appreciating and giving feedback on innovative papers. We want to give the broad international community of AHP and ANP experts, who come from both the academic and practitioner worlds, a place where they can publish and discuss their ideas.
http://www.ijahp.org/index.php/IJAHP
Call for papers: File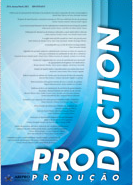 Production
The journal Production ISSN 0103-6513 (www.prod.org.br) is the flagship journal of ABEPRO - Brazilian Association of Production Engineering. Production (formerly, Produção) was created in 1990 in order to provide a communication medium for academic articles in the Production Engineering field. The journal is among the top Brazilian journals in Operations, Manufacturing, Industrial and Production Engineering and Management.
For the period 2018-2020, Prof. Dr-.Ing. Enzo Morosini Frazzon (from the Industrial and Systems Engineering Department,the Production Engineering Graduate Program and the Production and Logistics Intelligent Systems - www.ProLogIS.ufsc.br of the Federal University of Santa Catarina - UFSC) will be the Editor-in-chief.
The Production journal is Open Access and is licensed under a Creative Commons Attribution License (CC-BY), and it is digitally preserved by SciELO.
Call for papers: File